"True artisan chocolatiers putting a modern spin on vintage chocolate classics"
The Davenport's Chocolate makes a wonderful addition to our selection of luxury hampers and gifts. Artisan Chocolatier Jane Williams, creates most mouth-watering chocolates with a notable difference. Every task is carried out by hand, by a small, but perfectly formed team.
With Easter fast approaching, we want to shine a light on one of our finest local chocolatiers. To celebrate their impressive, hand-crafted Easter Eggs, filled with delicious chocolate truffles. So, keep reading to learn all about how Davenport's came to be. Then, more importantly, where you can find their delicious Easter Eggs in our range of Luxury Easter Hampers.
Where it all began
Founder of Davenport's Chocolate, Jane Williams (née Davenport) has worked as a professional chocolatier since September 2000. Master chocolatier, Philippe Burger's protégée, she has travelled extensively throughout Europe. Therefore, gleaning much from a wider European dedication to chocolate. Then in 2007 she and her husband Michael launched Davenport's Chocolates. Before refurbishing a factory unit in the North East, to become a high spec chocolate studio.
Jane has gone on to train and develop her team to become creative, skilled chocolatiers. Together they love to create the Davenport's range of artisan chocolates. Experimenting and developing new ideas to revive a lot of nostalgic, vintage chocolates with innovative and contemporary techniques. Their passion for quality and creativity is the driving force, and the end result speaks for itself. Handcrafted chocolates, enjoyed by many a discerning chocolate lover, up and down the UK.
As a family business, Davenport's Chocolates has a very hands-on approach to its chocolate craft. Ensuring creativity and passion remains at the heart of everything they do.
The Davenport's Range of Chocolate
Primarily producing our mouth-watering truffle selections, flavours including Hepple Gin, 'Howay the Chocs', Droitwich Salt and Broon Ale. In addition, Davenport's create the most fabulous peppermint creams and nostalgic floral fondants. More recently, we have seen the launch of their range of new chocolate bars. Flavours include; Hazelnut Praline, Strawberry Waffle Cone, Ginger and Lavender, Mango Smoothie, Bar Humbug, Broon Ale and Gingerbread.
Handcrafted Easter By Davenport's
Davenport's Easter handcraft their Easter eggs in their artisan chocolate factory in Pelaw. Each half-shell is double moulded by hand to create a thick double layer of chocolate. The chocolate truffles inside are created by hand too. Each centre enrobed using a antique enrobing machine.
The chocolate is sourced sustainably with Cocoa Horizons. An impact-driven program focused on cocoa farmer prosperity. Helping build self-sustaining farming communities that protect nature and children.
These eggs are beautifully finished. Importantly, the packaging is minimal as they are conscious of sustainability. They use only a few grams of cellophane, instead of plastic inserts. Meaning they drastically reduce their use of plastic. In addition, they then have a cardboard base and tag, which are fully recyclable.
Now, follow the link and see Heather and Bale's full Easter hamper range including Davenport's beautiful chocolate Easter eggs. https://www.heatherandbale.co.uk/product-category/easter-hampers/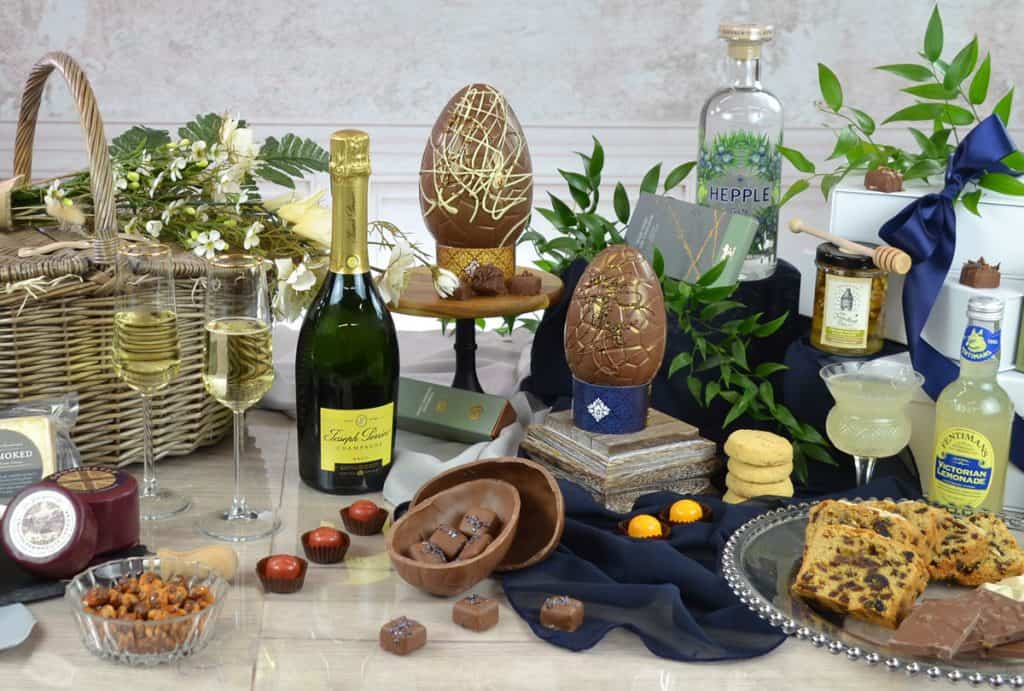 Where do we feature this producer?
You will find Davenport's Chocolates in more than our range of Easter Hampers. Here at Heather and Bale we feature this local artisan Chocolatier in a number of our luxury hampers and gifts.
The Dewley Luxury Hamper For Her. This impressive luxury hamper features one our favourites from Davenport's. Their Spring Salt Chocolate Truffles. Both delicious, and also beautifully presented.
The Craster Coffee Hamper. A Coffee Hamper packed full of delicious treats from some of the North East's finest producers. Not least the Davenports Honey & Cinnamon Buttonettes.
Hepple Gin & Truffles Box – Hepple Gin is a multi-award winning gin. Producing gin in one of England's last wild sanctuaries, in the remote moors of Northumberland. In addition to this fantastic gin, you also have the Davenport's delicious gin and tonic truffles. A perfect pairing!
#locallyinspiredluxury